8 App Marketing Tips for Halloween In 2022
Halloween happens to be the harbinger of the holiday season as it brings with it a string of holidays including Easter, Thanksgiving, Christmas and the New Year. However, in terms of thematics Halloween differs from the rest and by doing so, it requires the isolated attention of mobile marketers.
In this blog post, you will learn some top tips on how to position your app for the upcoming festive period and boost your user acquisition and engagement rates.
Why is Halloween Important for your App?
When marketing your app, it's worth considering your audience; are you targeting consumers in tier 1 countries like the US? The NRF (National Retail Foundation) conducted a survey in America to unveil that 7 in every 10 customers will be celebrating Halloween. Additionally, the NRF has analyzed that Halloween participation will boom beyond pre-pandemic levels to reach a total spending of $10.6 billion from last year's $10.1 billion. Hence, it would be a wise move to create a strategy to capitalize on this holiday when there is plenty of opportunity in the market.
Brand Building
As mentioned earlier, Halloween has a unique theme to it which makes it a perfect festivity to build a campaign around. Marketing strategies that incorporate Halloween's merrymaking energies often lure in hordes of new users in addition to retargeting old customers.
Bolstering Sales
In addition to being a catalyst for brand awareness, Halloween is a holiday when customers are most likely to make impulse purchases. With the correct creatives and targeting, your app can reach the right users at the right time and make the most of Halloween by increasing the rate of in-app purchases!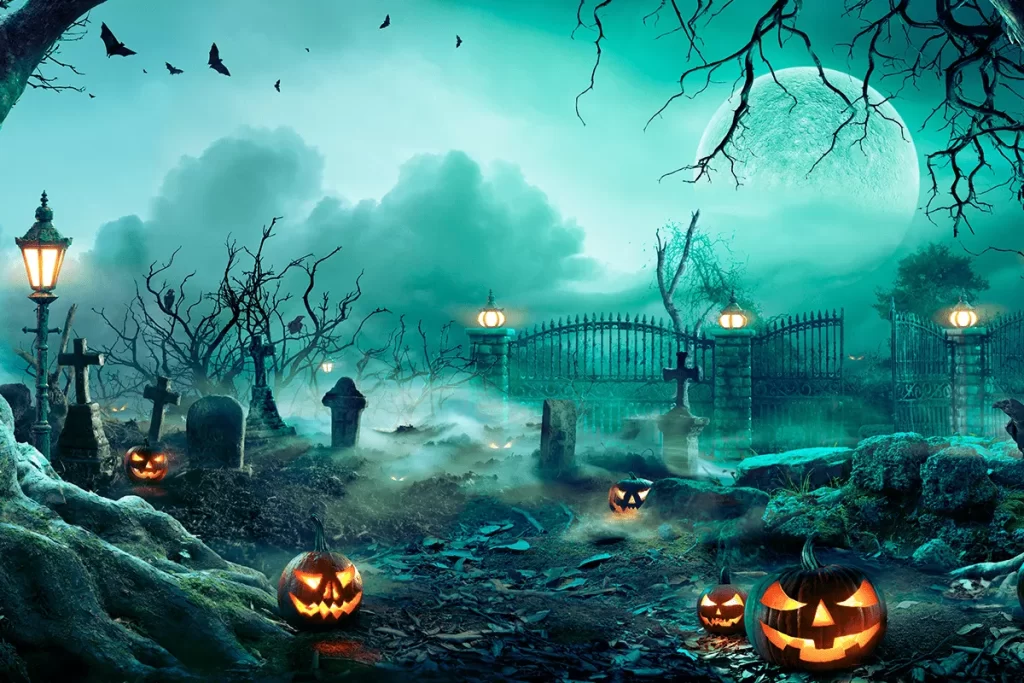 8 Top Halloween Marketing Tips for 2022
Stylize your app (Icon) to fit the theme
When in Rome, do as the Romans do. Rest assured that your competition will be hard at work to set the aesthetics of their apps to fit the Halloween theme. Autumn leaves, pumpkins, scarecrows and bats are just the tip of the iceberg; consider tweaking the theme of your app to boost engagement with current users and also exterior elements such as your app's icon. Users that resonate with your theme are more likely to download your app and in October, users are usually in the mood for one thing: Halloween.
Update Ad Creatives with Festive Themes
Mobile marketing would be a far cry from where it is now in terms of success without its backbone: ad creatives. Ad creatives that carry messages that users assign value to often are successful in terms of conversion. On Halloween, just by updating your creatives to consider the holiday's theme, you can ensure a huge boost to your user acquisition. Consider pushing Halloween-themed products or services and/or use Halloween-centric symbols in your art design for top results.
Use Influencer Performance Marketing (IPM)
The best part of using IPM is that a lot of the marketing effort is undertaken by the influencer, leaving you with plenty of time to spend on other Halloween opportunities. Influencers tend to have specific followings (mostly young audiences) which makes it easy to market to a particular target segment. What's more is that they strictly follow themes so your app will be placed really well during the Halloween period. If you're looking to target young users to sell your products/services to, IPM is the perfect method. Head on over to AppSamurai to get in touch with a dedicated specialist that can help you create a ROAS-Positive (Return on Ad Spend) IPM campaign now.
Update Engagements with In-App Users
Do you send your users push notifications? They're perfect for reminding users of your existence, so why not customize this important tool to bring the festivity of Halloween to their notification screens? This would be a perfect method of making the right sale to the right user at the right time.
Ensure Email Outreach is Halloween-Themed
It can be an arduous and dull process to set up email campaigns and is even more so for readers to get the message – it is serendipitous that the holiday season is around the corner because now you can properly theme your outreach messages to bring a bit of cheer to your emails. You can consider smartly worded subject lines, creative Halloween email designs, and push the right products and discounts for the best conversion rates.
Loyalty Programs for Users purchasing Halloween items
What's better than a user purchasing an item? A user purchasing more than one item! Starbucks has boosted its in-app user engagement as well as sales by promoting its loyalty programs to incentivize users to buy more coffee to earn in-app currency to receive gifts and freebies from the coffee giant. It wouldn't be the worst idea to consider throwing this idea into your marketing mix by offering some in-app incentives to users that buy Halloween-themed products, services or bundles. Which brings us to the next point.
Offer Halloween-themed products in bundles
As an app owner, you have the unique opportunity to bundle together items that normally have no relation to each other. A broom-stick decoration and a box of candies, a scented candle and a horror film, one can go on and on. The idea here is to maximize product sales through use of themed bundles that celebrate the festivities of Halloween. This would go hand-in-hand with the earlier marketing strategy of stylizing your app, the customers' impulse to purchase may not stand a chance against a festive bundle in a Halloween-themed app.
Offer discounts for Halloween themed items
In the days leading up to the spooky holiday, marketers can offer special discounts on Halloween themed items to help bolster sales and offload stock. Many sellers opt for the buy-2-get-1-free to improve the in-app add-to-cart events. Just remember that your discounts will be wasted efforts if they are not communicated to your audiences. They should be all over your email marketing, ad creatives, push notifications and social media!
When should you Begin Marketing?
You now know what to do to make the most of Halloween, but you might be wondering when to start.
A telltale sign of starting your Halloween app campaigns is when Starbucks begins rolling out their signature Pumpkin Spice Latte's – meaning, when October rolls around. It's imperative to begin well in advance so that your creatives and marketing efforts are granted time to gain traction and achieve their top respective reaches. For the uninitiated, Halloween will be on the 31st of October 2022 (Monday), so be prepared for a busy pre-Halloween weekend!
Conclusion
In-app advertising and user acquisition can be an arduous endeavor, especially during a festive holiday such as Halloween.